The Philips/Schuco ABC or 6000 series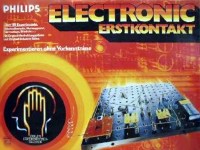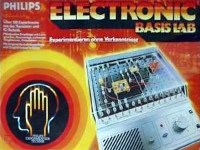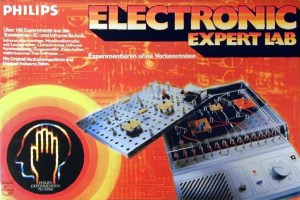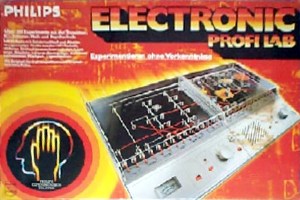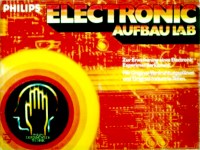 The original version of the series from 1983, and with minor changes also what remained in its final years.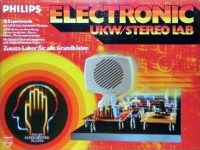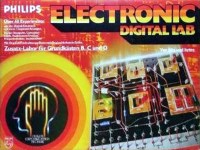 Additional kits made by Philips in 1984.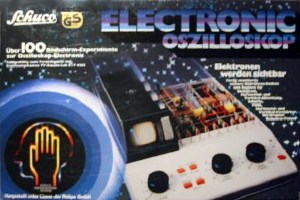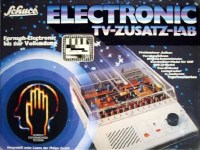 Additional kits made by Schuco in 1985, based on Philips kits from the EE 2000 series.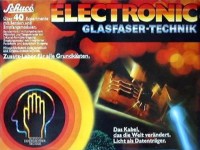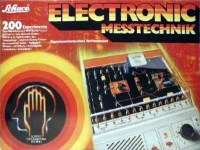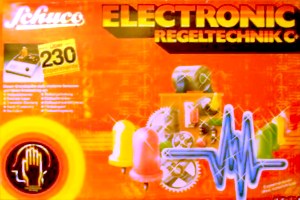 Additional kits made by Schuco 1986–1988. The three mini-expansion are not shown.
This series was originally made by Philips, later by Schuco under a license from Philips. The first additions under the Schuco brand were based on earlier Philips kits, and might already have been planned at the time of the transfer, but later ones are independent innovations.
6203 C → D
Aufbau Lab
6104 D
Profi Lab
6202 B → C
Aufbau Lab
6103 C
Expert Lab
6201 A → B
Aufbau Lab
6102 B
Basis Lab
6101 A
Erstkontakt
The diagram shows the initial version of the series from 1983; basic kits on grey background, expansions on white.
The series is based on the 2000 and 2001 series, but differ much more from these than EE 2000 does from EE 1000. The 6101 A · Electronic Erstkontakt kit is based on EE 2040, 6102 B · Electronic Basis Lab is most similar to EE 2002, while 6103 C · Electronic Expert Lab and 6104 D · Electronic Profi Lab primarily add functionality from the EE 2017 and EE 2014 kits respectively.
6361
Duo-LED
Ergänzung für
B/G/C+, C, D
6362
Thyristor
Ergänzung für
B/G/C+, C, D
6363
pnp-Transistor
Ergänzung für
B/G/C+, C, D
6301
UKW/Stereo Lab
Zusatzstufe für
A, B/G/C+, C, D
6302
Digital Lab
Zusatzstufe für
B/G/C+, C, D
6303
Glasfaser-Technik
Zusatzstufe für
B/G, C/C+, D
6203 C → D
Aufbau Lab
6104 D
Profi Lab
6205 E → F
TV-zusatz-Lab
6202 B → C
Aufbau Lab
6103 C
Expert Lab
6201 A → B
Aufbau Lab
6102 B
Basis Lab

---

6107 G
Meßtechnik

---

6108 C+
Regeltechnik
6105 E
Oszilloskop
6101 A
Erstkontakt
This diagram shows the series at its largest (1988).
The thematic expansions 6301 · Electronic UKW/Stereo Lab (filling the role of EE 2004/05/06 without being very similar to those) and 6302 · Electronic Digital Lab (loosely based on EE 2015) were added in 1984, like the A–D kits originally under the Philips brand.
Later the same year 6105 E · Oszilloskop and 6205 E-F · TV-zusatz-Lab (based on EE 2007 and 08) followed. These were the first to bear the Schuco logo from the beginning, and also stand apart from the other kits in having another colour scheme, and by being independent from the rest of the series (The E kit does not contain everything from D, and there is no D-E expansion).
In 1985 the four original basic kits were expanded with more experiments, but with few additional components: copper and zinc electrodes in A-B, B, C and D, an (extra) diode in A-B, B and C, more uninsulated wire in A-B and B-C and more insulated wire in B-C. The additions were at first described in an additional part 2 of the manual, this was later incorporated into the main manual.
In 1986 several additions were made: 6303 · Electronic Glasfaser-Technic intoduces an entirely new theme, fibre optics. 6361 · Electronic Duo-LED, 6362 · Electronic Thyristor and 6363 · Electronic pnp-Transistor are mini-additions with only one or a couple of components, and 20 new constructions each utilising these.
6107 G · Electronic Meßtechnik is an extended B kit with sensors for various forms of electronic measurement and a control module for these, appearing in 1987. The last addition to the series was 6108 C+ · Electronic Regeltechnik in 1988. Oddly enough this is just like the previous one an extended B kit, and not an extended C kit as the name strongly suggests! This one has added components relating to electronic control.
The end
In 2001 Schuco made a web page on electronic kits, listing only the A-D kits and the intermediate expansions. In 2002 the link to this page disappeared, and in 2003 the page itself. I have been informed that when asked about the availability of the kits, Schuco replied that they are no longer in production.
Quelle
When distributed through Quelle, the kits were at first just marked with a sticker; later they were given different numbers and names: 6121 A · Start Lab, 6122 B · Studio Lab, 6123 B · Master Lab and 6124 D · Super Lab. The Quelle A kit differ from the standard A kit in the inclusion of an LDR and a leaflet with a handful of constructions utilising this. It doesn't seem as if anything similar was the case for the other kits, but at least in the B kit, the construction box came pre-assembled. At a later period, this was also the case for the standard kit.
Manuals
A: Erstkontakt
(Philips)
A: Erstkontakt
(Schuco)
A: Erstkontakt
(Schuco, updated)
A: Erstkontakt
(same, with safety and environmental certification marks)
B: Basis Lab +
C: Expert Lab
(Philips)
B C
(Schuco)
B C
(Schuco, updated)
B C
(same, with safety and environmental certification marks)
D: Profi Lab
(Philips)
D: Profi Lab
(Schuco)
D: Profi Lab
(Schuco, later)
D: Profi Lab
(same, with safety and environmental certification marks)
A: Erstkontakt
(Schuco, addition)
B C
(Schuco, addition)
UKW/Stereo Lab
Digital Lab
Glasfaser-Technik
E: Oszilloskop
E-F: TV-zusatz-Lab
G: Meßtechnik
C+: Regeltechnik
6361
Duo-LED
6362
Thyristor
6363
Pnp-Transistor
---
---