The EE 2001 series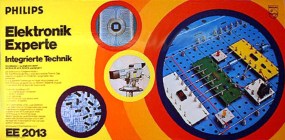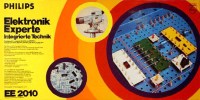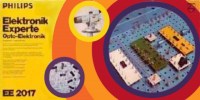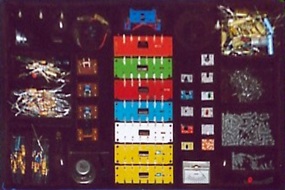 Original design of the boxes (EE 2001 was packed in a blue plasic briefcase like the original EE 2000)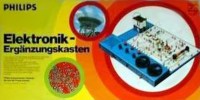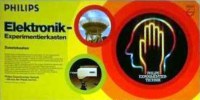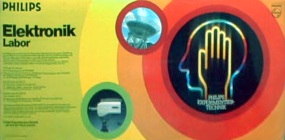 Intermediate (EE 2016) and late (EE 2010 and EE 2002 GK) box design
EE
20
14
EE
20
15
EE
20
16
EE
20
17
EE 2001
 
EE 2010
 
EE 2013

---

EE 2002
 
EE 2003
 
The diagram shows the kits in the series; basic kits on grey background, expansions on white. EE 2002 was added in 1981; it is equivalent to EE 2003 and EE 2010 (EE 2013 and EE 2001 did not include everything in EE 2003, and could therefore not be expanded with EE 2004/05/06 and EE 2007/08). EE 2002, as well as EE 2000 and EE 2001 from this year on, was packed in a cardboard suitcase consisting of two halves hinged together, each looking like a normal box lid. These versions were often given a GK suffix to their type codes.
Titles
EE 2013 / EE 2010 Integrierte Technik (Integrated circuits)
EE 2014 Meßgeräte-Technik (Measuring)
EE 2015 Digital-Technik (Digital technology)
EE 2016 Ultraschalltechnik (Ultrasound)
EE 2017 Opto-Elektronik (Optoelectronics)
All five manuals in the series have the same cover design and exist both in book and loose-leaf form.
---