Philips CL 1600 and 6400 computer experiment kits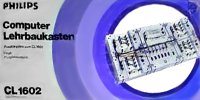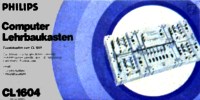 The CL 1600 series at its largest.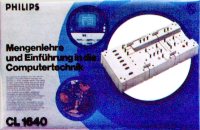 Prototypes of CL 1601 and CL 1640 from the 1972 and 1974 catalogs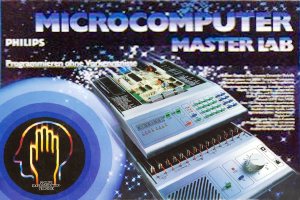 The only kit in the later Microcomputer series
In 1972 the CL 1600 series consisted only of the basic kit CL 1601, while the expansions CL 1602 and CL 1603 were planned. The following year not only these two, but also a third expansion appeared: CL 1604, and a fourth was planned: CL 1605. This was released the next year, but only after a smaller basic kit, CL 1650. This year the unrelated CL 1640 kit also appeared in the catalog. I have never seen any reference to it outside this catalog, and strongly doubt that it ever reached production. It was gone in the 1976 catalog, where the rest of the series remained until 1980, disappearing in the one for 1981.
These kits does not contain anything remotely like a complete computer, but just show the basic use of digital logic circuits. Constructions are made by wiring together a power supply containing 6 on/off input switches with a number of logic units. Each of these units has three inputs and one output (whose state is indicated by a lamp), and can be programmed to act as various gates and flip-flops through simple internal wiring.
According to the description, CL 1640 was intended to be an entirely different kind of kit than the other ones, aimed at teaching basic set theory using pre-programmed punch cards on an electronic control panel. Still the box lid shown in the 1974 catalog uses a photo of CL 1650 components also used for that kit's box lid.
The later 6400 or ABC series consisted only of 6400: Microcomputer Master Lab, appearing in 1983 and staying in the catalog until 1986. In a supplement to that year's catalog, the number series was taken over by an unrelated subseries focusing on crafts, with 6401 Töpferei (Pottery) and 6402 Holzgraveur (wood engraving). It is unclear if the kit actually stayed in production or if they just sould out old stock, as I have never seen a version bearing the Schuco logo.
Unlike the CL 1600 series, 6400 contained a complete computer with CPU, 4 kB EPROM, 1 kB RAM and an 8 digit display.
I have never seen any Quelle versions of any of these kits.
Instruction books
As the series grew, the CL 1601 manual was gradually extended to cover all kits, except the unrelated CL 1640 kit, for which I have never seen a manual.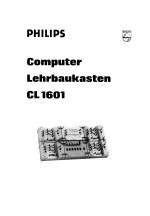 Early versions of the add-on kits included the necessary new material for use with an older main manual.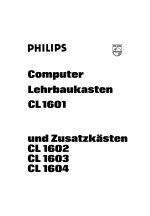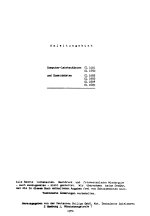 The Microcomputer Master Lab manual: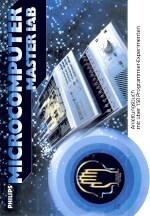 ---